2023 - 2024 : Africa Ocean expedition
Blue Observer is currently working on its next major scientific campaign.
For several months, the team has been drawing up the route of the future mission, that will set off in 2023 for a period of 18 months.
It is a rich and dense scientific program that will mark out the course of the sailing ship IRIS through the Mediterranean Sea, the Red Sea, the Indian Ocean and the Atlantic Ocean.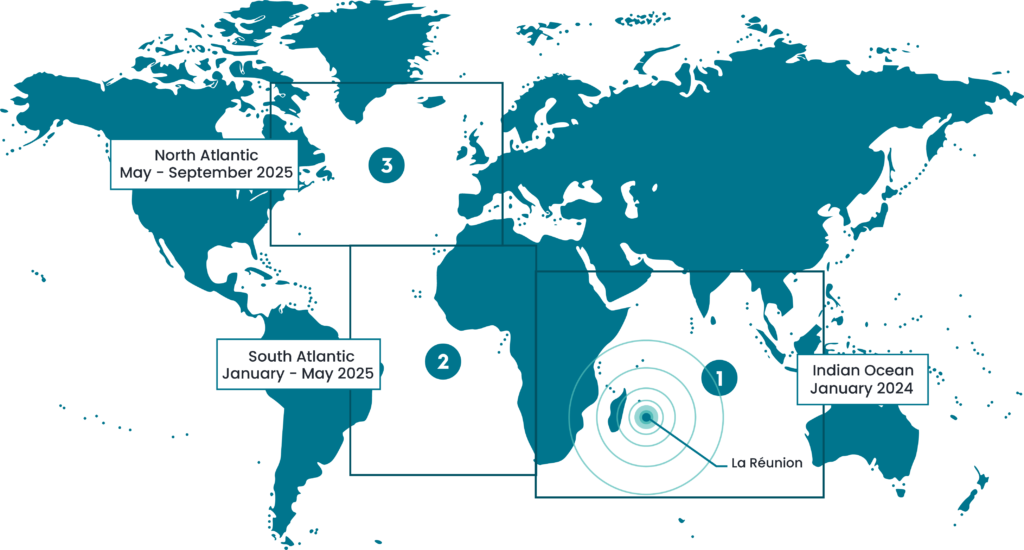 The objectives of this campaign:
This multidisciplinary program will allow scientists to collect crucial data in several areas :
Ocean physics : deployment of measurement instruments to collect data essential for weather forecasting and climate risk assessment.
Microbiology : collection of aquatic and aerosol samples to increase knowledge of microorganisms that play a key role in biodiversity and climate.
Marine fauna : study of the marine megafauna to better understand and preserve it and to support the creation and improve the management of marine protected areas.
Pollutants : collection of samples in order to evaluate the level of plastic pollution in the ocean and the consequences on marine ecosystems.
2021 - 2022 : Grand Atlantic expedition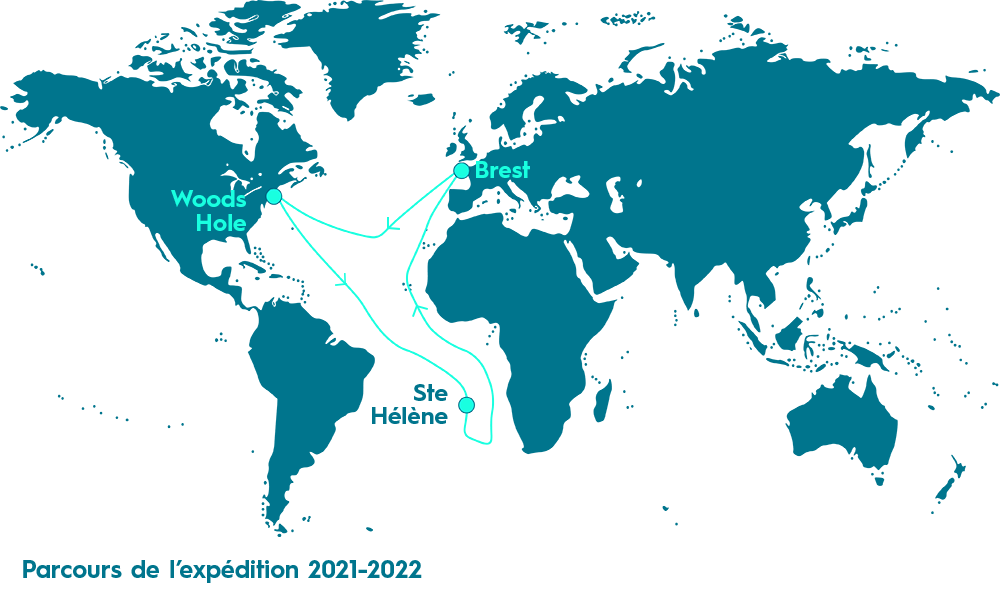 A mission of unprecedented scope under sail to increase the data essential for weather and climate forecasting.
Blue Observer carried out a 96-day oceanographic campaign in the North and South Atlantic
Leaving Brest in November 2021, the sailboat IRIS and its crew crossed the Atlantic towards Massachusetts to join the Woods Hole Oceanographic Institute. Then they crossed the ocean from North to South towards the island of Saint Helena before to Cape Verde and to return to Brest in March 2022. In total, the 6-person crew led by Éric Defert has sailed over 17,500 miles.
Campaign goals :
deployment of 95 Argo floats on behalf of the United States, Canada and Europe as part of the international Argo cooperation program
collection of aquatic samples and uncontaminated aerosols for several international laboratories and scientific institutes.
Distance traveled : 17,500 nautical miles
Average speed : 7.5 knots
Consumption : 700 liters of diesel (150 times less than an equivalent motor vessel)
Floats deployed: 95
Microbiological samples: 106
People on board : 6
3 stopovers, 6 equator crossings, 4 depressions