The French boat Blue Observer successfully completed its inaugural expedition on Thursday, March 10 in Brest, proving that it is possible to undertake large-scale oceanographic missions under sail. For 96 days, the six-person crew led by Eric Defert covered more than 17,500 miles. All along the route, 95 Argo profiling floats were deployed at predefined GPS positions.
Review of this oceanographic sailing expedition, a real scientific, maritime and human challenge.
An oceanographic mission of unprecedented scope under sail
It is an oceanographic mission of an unprecedented scale under sail that ended a few days ago. The Blue Observer sailing boat left Brest on November 14, 2021 and returned to Brittany on March 10, 2022, after a 17,500-mile voyage with stops in Woods Hole (United States), St. Helena and Cape Verde. The crew sailed in the North and South Atlantic, facing various weather conditions that never prevented the expedition from going well.
Key dates of the expedition
Departure: November 14, 2021
Brest – Woods Hole: 22 days at sea (November 14 to December 6)
Woods Hole – St. Helena: 36 days at sea (December 14 to January 19)
Sainte-Hélène – Cap-Vert : 25 jours de mer (du 28 janvier au 22 février)
Cap-Vert – Brest : 13 jours de mer (du 25 février au 10 mars)
A success from a scientific point of view
A total of 95 Argo oceanographic floats have been deployed on behalf of the United States, Canada and Europe (France, Germany, the Netherlands on this mission), and all are operating to date.
"Everything that needed to be deployed was. It was a challenge to keep the equipment intact over such a long period of time, with a boat that can slam into rough seas. We have succeded. From a scientific point of view, our partners are convinced by our approach."
As a reminder, the Argo network aims to observe the oceans in as much detail as possible and to interpret their modifications, through temperature, salinity and current measurements. Thanks to this first Blue Observer mission, scientists will have access to more data essential to studies on climate variations. This will allow us to better understand the ocean, and therefore be able to better protect it. This data will also be used to feed weather forecasting models.
The other missions carried out during the expedition
As part of the study of antibiotic resistance genes, marine aerosols were collected between Brest and Woods Hole for the University of Laval (Canada) in collaboration with the Institute of Chemistry of Clermont Ferrand, the CNRS and the University of Clermont Auvergne.
15 aerosol samples taken for the Institute of Chemistry of Clermont Ferrand
33 for the University of Laval (Canada)
The objective: to study the dispersion and distribution of antibiotic resistance genes in bacteria in remote areas of the Atlantic.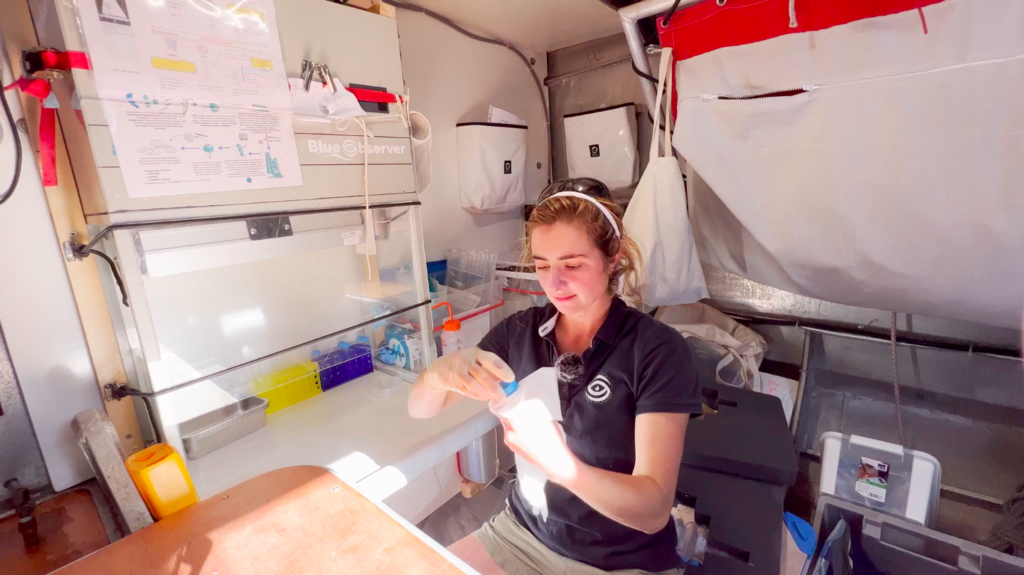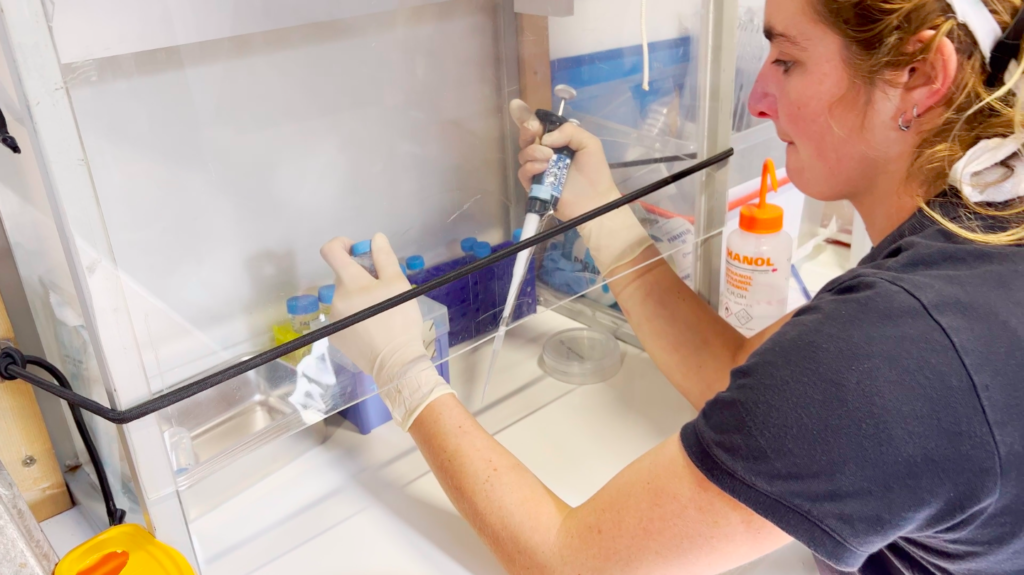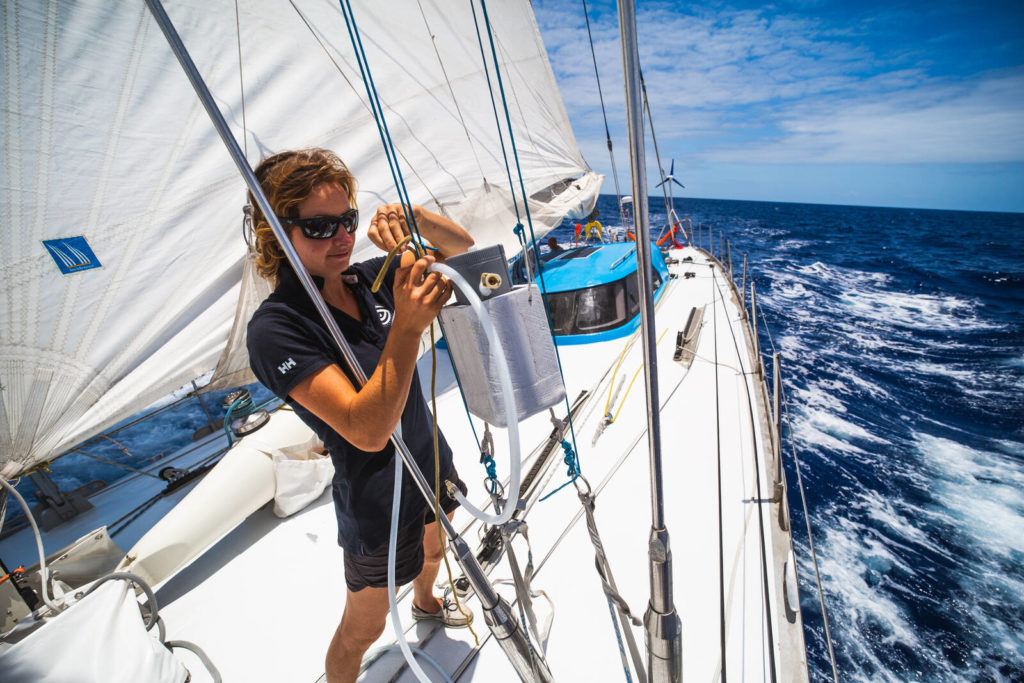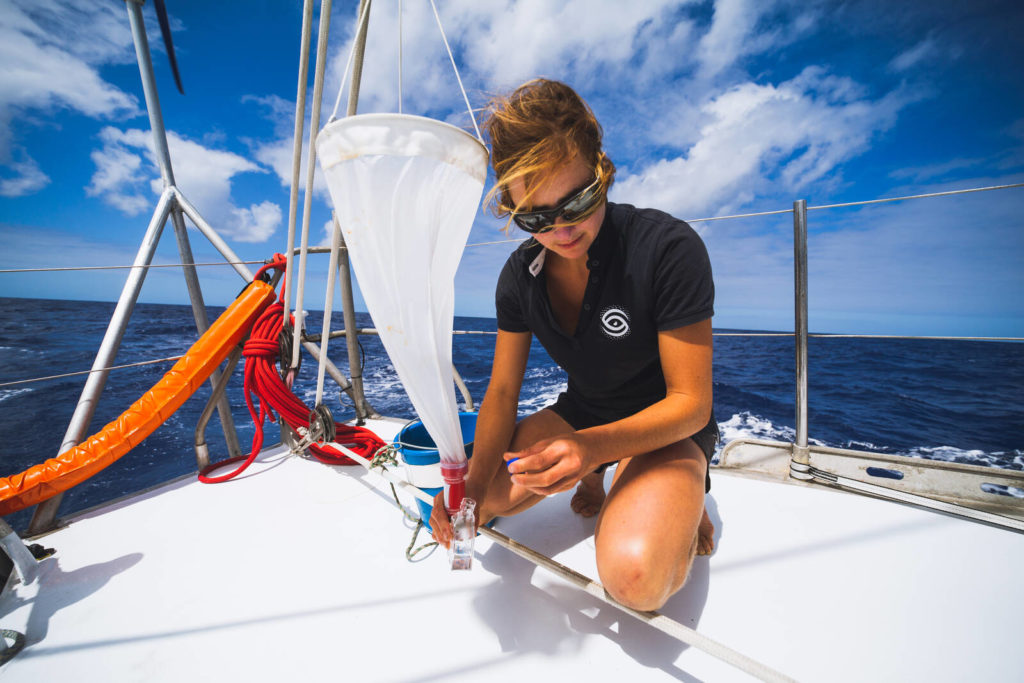 Samples were taken in collaboration with the Roscoff Biological Station as part of the development of a responsible innovation project supported by the Brittany Region. The purpose of the study is the characterization of the biological diversity of seawater samples and marine aerosols and the potential of valorization in well-being, nutrition, health.
31 aquatic samples collected
27 aerosol samples
These samples were put in culture on board to identify the species present, the objective being to constitute a strain library of marine micro-organisms on the whole expedition.
The observation of large cetaceans
During the expedition, Blue Observer collaborated with the Woods Hole Oceanographic Institution to conduct large marine mammals observations. Each observation was meticulously described and the data transmitted to the scientists in charge of marine mammal studies.
Observations for Météo France
Météo France (VOS program: Voluntary Observing Ship). Daily observations were conducted: atmospheric pressure, air and sea temperature, sea state (distance between waves, wave height), sky observations (cloud types, height, percent cloud cover). This data is used in the algorithms to refine the weather models.
A data collection mission for LOPS
The purpose of this study is to measure the physical parameters of the surface layers. A thermosalinographer from LOPS (Physical and Space Oceanography Laboratory) was on board. Its function was to continuously measure temperature and salinity. These data are entered into a database that is used for physical oceanography and validates satellite measurement data.
The validation of the concept of deployment under sail, a world first!
Blue Observer is the very first sailing ship to deploy instruments on this scale. This well-executed project marks a turning point, the beginning of a new era. The sailors on board have proved that large-scale scientific expeditions can be carried out perfectly well under sail, in a logic of economic and energy sobriety.
"We sailed 17,500 miles and consumed less than 700 liters of diesel over the entire course despite the fact that our boat was heavily loaded with all the floats to be deployed and that we passed the equator six times, an area where the wind is often weak."
Eric Defert says he is very satisfied with the boat chosen to lead this expedition, Jean-Luc Van Den Heede's ex Adrien.
"She is really a great sailboat that has retained all her qualities and is able to maintain a steady average speed in all conditions. She is reliable, robust, nothing to complain about!"
Leading a crew of six people (sailors, scientists and engineers) for 96 days at sea in spartan conditions was a real human challenge. Initially designed to sail single-handed, the ex Adrien is a narrow boat with rudimentary comfort.
"After several months at sea, fatigue inevitably accumulated but there was always a nice unity in the group. Everyone met expectations and conducted the mission with great professionalism. Succeeding in this human challenge was very important, essential even."
From now on, the objective for Blue Observer is to continue to progress and to develop this innovation of use. This in order to be a link in the creation of value and facilitation for scientific actors and companies wishing to include the understanding and protection of the ocean in their trajectory. Two missions are already under study: the observation of cetaceans and the continuation of microbiology missions to complete the strain library.
Unfortunately, oceanographic science has little public funding compared to the importance of the challenge of understanding the ocean. Through its actions, Blue Observer wishes to sensitize the private sector so that it engages or finances oceanographic studies under sail.
Key figures of the expedition
17,500 nautical miles travelled
550 liters of diesel consumed on the float mission
700 liters of diesel in total (return to Brest)
2.5 tons: the total weight of the floats
106 microbiological samples
3 stopovers, 6 equator crossings, 4 depressions
Photo credits: ©Blue Observer – Baptiste Langlois Meurinne