During the starting village of the Route du Rhum, we had the opportunity to meet the famous sailor Jean-Luc Van Den Heede (VDH).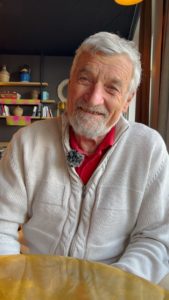 With Gilles Vaton, the naval architect, they imagined and built Adrien, a robust sailboat with an aluminum hull.
With this boat, VDH still holds the record for the round-the-world trip against the wind, single-handed, non-stop and without assistance.
In this meeting, VDH tells us about the different attempts that led him to the success of this round-the-world trip against the wind, achieved in 122 days, 14 hours, 3 minutes and 49 seconds.
From the conception of the sailboat to its current use for oceanography with Blue Observer, discover the unique history of the sailboat Adrien (now IRIS).